Fellowship Outward
The good news of God's grace and forgiveness in Jesus transforms us from the inside out and moves us in ever-expanding circles of concern for our neighbor, our nation, and our world. Our commitment to outreach is a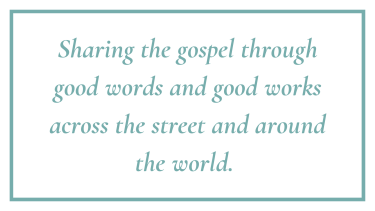 tangible expression of God's love for all people and of our desire to help fulfill God's mission to make disciples of all nations.
Each year, we focus on one of the five connections in our portrait of a connected life. This year, our emphasis is Connecting Outward with the Mission! Fellowship Outward consists of three points of engagement with those in need of knowing and following Jesus Christ in a personal way:
MISSION TRIPS.

We challenge everyone to prayerfully consider going on a mission trip each year. Mission teams serve in places like Honduras, Scotland, Memphis and even Murfreesboro. Most of these multi-day trips happen during the summer months.

COMMUNITY SERVICE. Throughout the year we initiate practical one-day service projects. Your Community Group can adopt a project. You can join Fellowship Student Ministries during one of their monthly GO Days, or set aside April 28 when our entire church will hit the streets of Murfreesboro to meet some of the tangible needs of people in our community.
LOVE YOUR NEIGHBOR. The goal is to know and be known by the people who live right around us—those in our immediate circle of influence—and to care for them in a context of authentic relationship.
At Fellowship we seek to serve as Christ's ambassadors where we live, work and play. We also seek to have a lasting impact throughout our nation and our world. That means more than just giving money, it means giving time, energy, and love to people and causes both great and small.
A life on mission is the focus of Foundations 401. In this session we wrestle together with the call to discipleship, to both evangelize and equip, and with the stewardship of all our resources for the advance of His Kingdom. Be sure to sign up the next time it's offered.
Whether it's by giving, praying, sending, or going, we are all on mission, His mission!
Learn more about our local, national, and international ministry partnerships
Opportunities
If you're interested in participating in a trip, creating your own trip, or you just want to learn more about mission trips at Fellowship, please fill out the form below and we'll get you connected to a team leader or staff member.